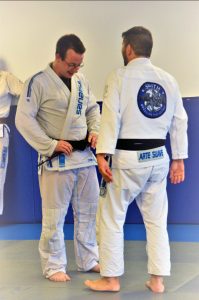 Kevin Paul, a Brazilian Jiu-Jitsu Black Belt under Philip Smith of Smith BJJ in Atlanta will be leading a technique workshop with Living Sword Martial Arts on Saturday the 24th of August from 11am to 1pm.
The workshop will take a deep dive into Americana and include an hour and a half of instruction and exploration of the technique followed by a half hour of rolling and Q&A. Participants are invited to attend Living Sword's afternoon BJJ class immediately following the workshop at 1pm at no charge.
The workshop will be hosted at Advent Presbyterian Church at 1879 N. Germantown Pkwy in Cordova, TN.
Cost for the workshop is $40 ($20 for Living Sword members) and is payable at the door or click below to checkout online and use a school discount code